From The Desk of Nigel Yates
[letsreview postid="3305"]
INTERNET TRAFFIC MASTERY REVIEW - 2018
In this Internet Traffic Mastery review article I will explain why this course is a 'must have' product for anyone who has ever struggled to drive targeted traffic (visitors) to their website, product or service.
Firstly, Internet Traffic Mastery – or ITM for short, is a product I use almost daily to 'dip into' and either pick a module to learn something new or simply just as a refresher before I take action…
…and here's a quick explanation why:
The course is produced by Vick Strizheus, founder and CEO of the Four Percent Challenge, an entrepreneur training platform which provides in-depth, over-the-shoulder training to online entrepreneurs of all abilities.
You can read my separate Four Percent Challenge Review on my blog page here.
Internet Traffic Mastery is newly launched in 2018 and consists of 12 in-depth modules designed to provide entrepreneurs with all the traffic strategies they will ever need to drive a constant stream of visitors to their web pages. 
Each module starts with an introductory video accessed from the product catalogue in the course back office.
For example, ITM Module 1 outlines the principles of traffic, strategic approaches and how the course can be used effectively: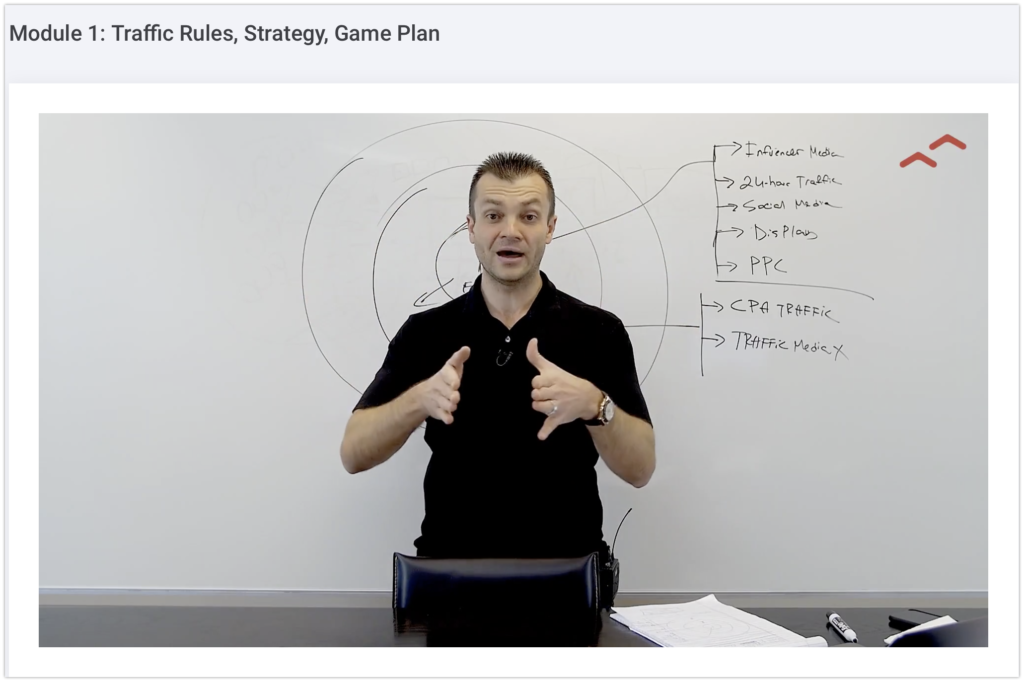 In my experience, few courses, if any, take the time to teach some basic principles, or foundations, that every online business owner really needs in order to build success.  
Internet Traffic Mastery Module 1 explains exactly why and how you should:
Never waste ANY traffic;
Focus on RESULTS (not CHEAP traffic);
Focus on the OFFER and not the PRODUCT you are selling;
Think and play STRATEGICALLY for the long-term;
Have FUN whilst learning the game!
After the introductory video, each module has a number of supporting sub-modules which dive deeper into the sub-categories with links to resources where necessary.
Here's an example of the sub-categories from the 'Influencer Traffic Media' module: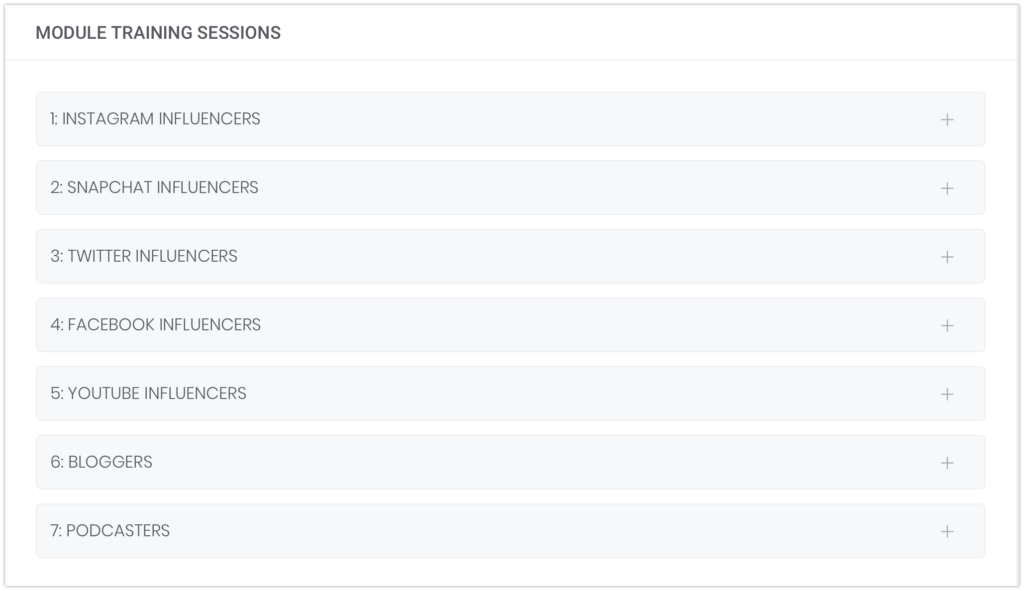 So what do you actually get in the Internet Traffic Mastery course?
Let's take a closer look at the course curriculum:
MODULE 1: Traffic Rules & Game Plan.
Understand the rules of the game and speak the secret language.
In this module you'll learn how to multiply your results with less work and the strategies you must understand before activating your first traffic campaign. 
MODULE 2: Influencer Traffic Media.
How to reach potentially millions of targeted prospects on demand and get floods of traffic to any website you want; including:
– INSTAGRAM INFLUENCERS
– SNAPCHAT INFLUENCERS
– TWITTER INFLUENCERS
– FACEBOOK INFLUENCERS
– YOUTUBE INFLUENCERS
– BLOGGERS
– PODCASTERS
MODULE 3: 24 Hour Traffic Media.
Instant traffic media; including:
– TRAFFIC AGENCIES
– EMAIL MEDIA BUYS
– NETWORKS
MODULE 4: Social Media Traffic.
How to quickly and strategically siphon massive amounts of targeted traffic from the biggest social media networks in the world today; including:
– FACEBOOK STRATEGY
– YOUTUBE STRATEGY
MODULE 5: Search Media Traffic.
How to get in front of massive amounts of hungry prospects desperately searching for what you have; using:
– SEARCH NETWORKS
MODULE 6: Display Traffic Media.
How to tap into huge pools of targeted traffic with almost no competition; including:
– CREATING YOUR BANNERS / CREATIVES
– CLICKBANK MARKETPLACE
– JVZOO MARKETPLACE
– FORUMS
– BLOGERS
– MAJOR DISPLAY AD NETWORKS
– MAJOR NATIVE AD NETWORKS
MODULE 7: Retargeting Media.
How to be everywhere, reach millions and dominate your market; including:
– AdRoll Network
– FACEBOOK RETARGETING
MODULE 8: CPA Traffic Media.
How to get an army of super-affiliates to send you 50.000+ visitors per day without paying a single dime for traffic; source:
– CPA Networks
MODULE 9: Strategic Syndicate Traffic Media
How to get unlimited amounts of buyers without personally running a single campaign.
MODULE 10: Perpetual Traffic Machine.
How to open floodgates of massive amounts of new fresh targeted traffic spending a single dime.
MODULE 11: Traffic Media X.
How to strategically uncover new fresh traffic sources and never depend on anybody for traffic.
MODULE 12: The Ultimate Traffic Media.
How to tap into a well of instant and never ending highest converting traffic available anywhere
In this module you'll learn about the single most powerful traffic source ever.
PRICE AND AFFILIATE PROGRAM
Internet Traffic Mastery (ITM) is now available at the launch price of $1997.
Learn more here – ITM Open EnrollmentI
Without doubt, there are other more expensive products which aren't anywhere near as comprehensive or complete as Internet Traffic Mastery.  
Another company I work with have a traffic product retailing at $197 per month!
ITM represents great value as an investment into you, your business and your future online.
There are NO up-sells. ITM is a complete traffic solution.
I should also add, Internet Traffic Mastery is a 'core product' within the Four Percent Entrepreneur Challenge program.  This means Four Percent Promotional Partners who own ITM are eligible to earn 40% commissions on any ITM sales as well as 10% commissions on any 2nd and 3rd tier sales.
You can join the Four Percent $10K Challenge Program here (trial available).
INTERNET TRAFFIC MASTERY REVIEW SUMMARY
I've been using Internet Traffic Mastery now for almost two months and it is a gold mine of information and traffic strategies.
The 12 in-depth modules provide an easy-to-use source of training and reference material to support any business and any niche online.
So far, I think Module 6 – Display Traffic Media, has been one of my favorites – I gained a whole bunch of new insights and ideas from this one module alone.
My only criticism, is that there could have been a little more information on how to create Solo Ads – love them or hate them, they are very much part of this business and highly effective when done correctly.
BUT – I've got you covered and for anyone purchasing Internet Traffic Mastery through my EXCLUSIVE link, I will give you complete access for FREE to my BONUS course 'SOLO ADS TRAFFIC', which is valued at $197 and worth so much more!
You will also get VIP access to my Facebook Mastermind Group!
The Solo Ads course includes: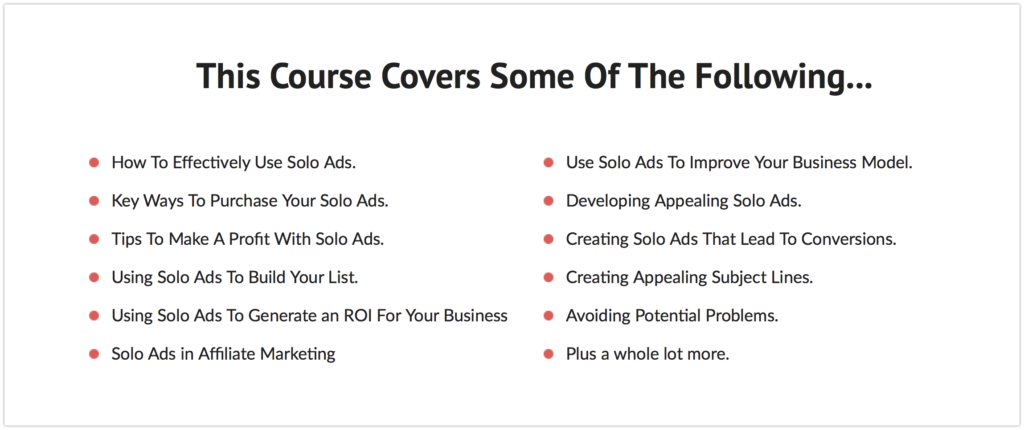 FINALLY.
I want to say a huge THANK YOU for reading this Internet Traffic Mastery review – and for getting this far!
I have a FREE bonus for you simply for being here…
…MASS TRAFFIC BLUEPRINT is a value-packed traffic strategy complementary to Internet Traffic Mastery and available for free as part of the ITM launch celebrations.
You can sign-up below completely FREE and with no obligation whatsoever…
Simply click the image below…
It's yours…my gift to you which I hope and trust will bring you much success in getting started or growing your online business.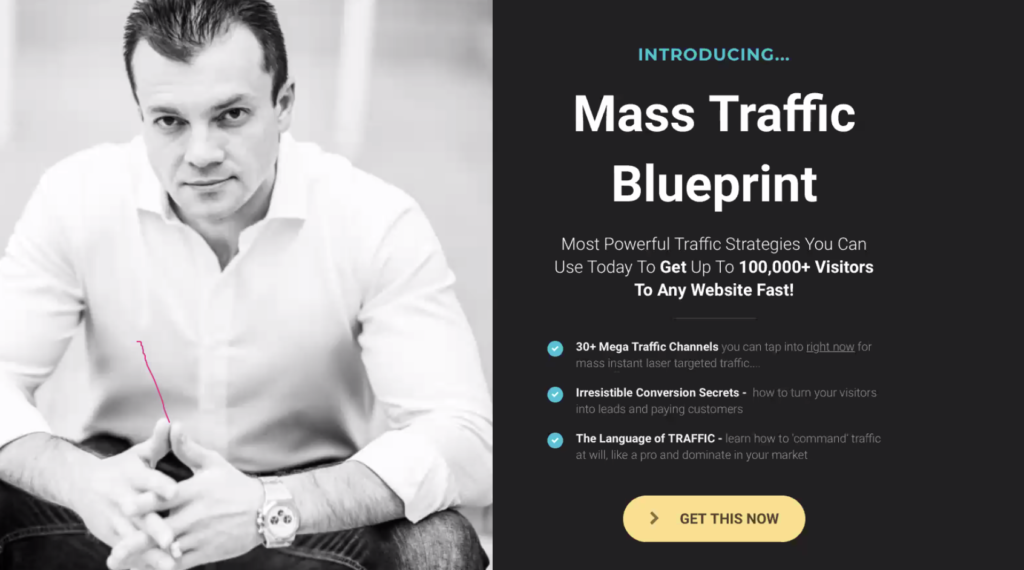 Thank you once again and the final word goes to those fellow students of Internet Traffic Mastery who secured early bird access via the Four Percent Challenge program…
Here's just a small number of Facebook testimonials (live feed)… 
INTERNET TRAFFIC MASTERY - TESTIMONIALS