FOUR PERCENT CHALLENGE REVIEW
Welcome to my Four Percent Challenge Review – newly updated for 2019!

Thank you for stopping by!
In this review I will explain exactly how the Four Percent Challenge has evolved into an 'affiliate marketing' masterclass designed to train and equip YOU with the skills required to become an independent entrepreneur.
Here's a quick taste of what some of the Four Percent members are saying:
Firstly, in the spirit of full disclosure I would like to point out that I have been a member of the Four Percent since its inception and decided to write this Four Percent Challenge review as an update to my previous review and to highlight recent changes made – get ready for success in 2019!
Please also note that the Four Percent continues to evolve, change and adapt to ensure all products, systems and processes are fully and legally compliant with legislation and relevant to the marketplace.
This ensures the Four Percent can continue to move forward and grow for many years to come.
I am a Lifetime Member and practice what I preach.  I work full-time online and use the Four Percent and the Challenge as one of my primary income streams – which is why I love to share what I do and how I do it.
At the heart of the Four Percent Challenge is the concept of taking a 'Daily Success Pill' – which looks like this:
FOUR PERCENT CHALLENGE SUCCESS PILL
This is a refreshingly novel (and brilliant) concept – though let me be clear, this is purely a metaphorical success pill and not a real pill like some people first thought!
The pill has number of critical 'success ingredients' including:
MIC – Motivation, Inspiration & Creativity
D&G – Direction and Goal Setting
MGA – Marketing Genius Activator
MAB – Massive Action Booster
ASME – Automatic Success Mechanism Enhancer
SSMAB – Strategically Specific Massive Action Booster


I was somewhat skeptical about this at first, however, once you experience the daily content being delivered, with actionable steps to take each day, you will soon realise that this controlled pace is pure genius – it keeps you motivated and focused on taking action and moving forward every day.
Interestingly, I know many people, myself included, initially wanted access to the whole thing up-front.  However, I now know from experience that having access to an entire training program is simply an invitation to start jumping around and looking for the bit about 'making money' – missing out on critical elements that really do matter.
The Challenge is so much more than just 'how to make a quick buck online' by blasting an affiliate-link across the internet and here's why:
So HOW DOES The Four Percent Challenge ACTUALLY WORK?
The concept is quite simple, follow the daily training
exactly
as laid out in each success pill.  Next, simply take appropriate action as described in the daily action steps and learn to become an independent entrepreneur!
Here's a quick guided tour I did of the members area and what you will find 'on the inside':
MAKING MONEY – THE POWER OF MSIs
One of the core building blocks of the Challenge is the proprietary platform that allows affiliates to integrate and exploit the power of Multiple Sources of Income (MSIs).
The Four Percent Challenge is often described as an 'eco-system', this is because the back office is an 'integrator' of multiple sources of income from different products and services.
The benefit of having such a powerful platform like this working for you is surprisingly often overlooked, but can you imagine trying to create a system like it for yourself, integrating so many MSIs…very few people could have the vision and drive to deliver a system like this and the cost would be astronomical!
Here's a taste of the different income streams you can have working for you 24/7 (even while you sleep):
Clickfunnels
Landing page Builder
GetResponse
Email Autoresponder
Clickmagick
Link Tracking Service
World Ventures
Travel, Vacation and tourism
MAKING MONEY – THE CHALLENGE LEVEL 1
The Four Percent Challenge is split into 3 levels as shown below, Level 1 is a 30-day daily program designed with the income goal of $10K.
Level 1 is followed by the $100K Challenge (Level 2) and finally the $1M Challenge (Level 3)!
For many, the $10K Challenge is an opportunity to earn their first ever $1 online – and although $10K can seem like a daunting challenge the program is structured to break down old paradigms and ways of thinking and to turn you into a goal-setting entrepreneur who is not afraid to think big and establish yourself as a serious online entrepreneur.

Additionally, in this Four Percent Challenge Review I very much wanted to highlight the fact that goal setting is taken very seriously. The Challenge even provides a great choice of 'downloadable' goal cards onto which you can write your personal goals (see below)…
This has proven very popular among members, to actually take the time to think about and write down what it is they actually want.
As the saying goes:
"a dream is just a dream unless it is written down,
only then does it become a goal"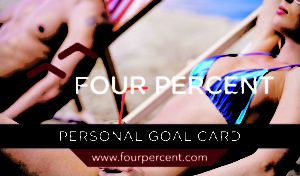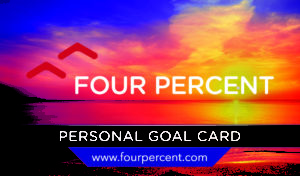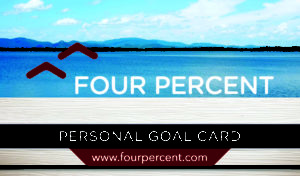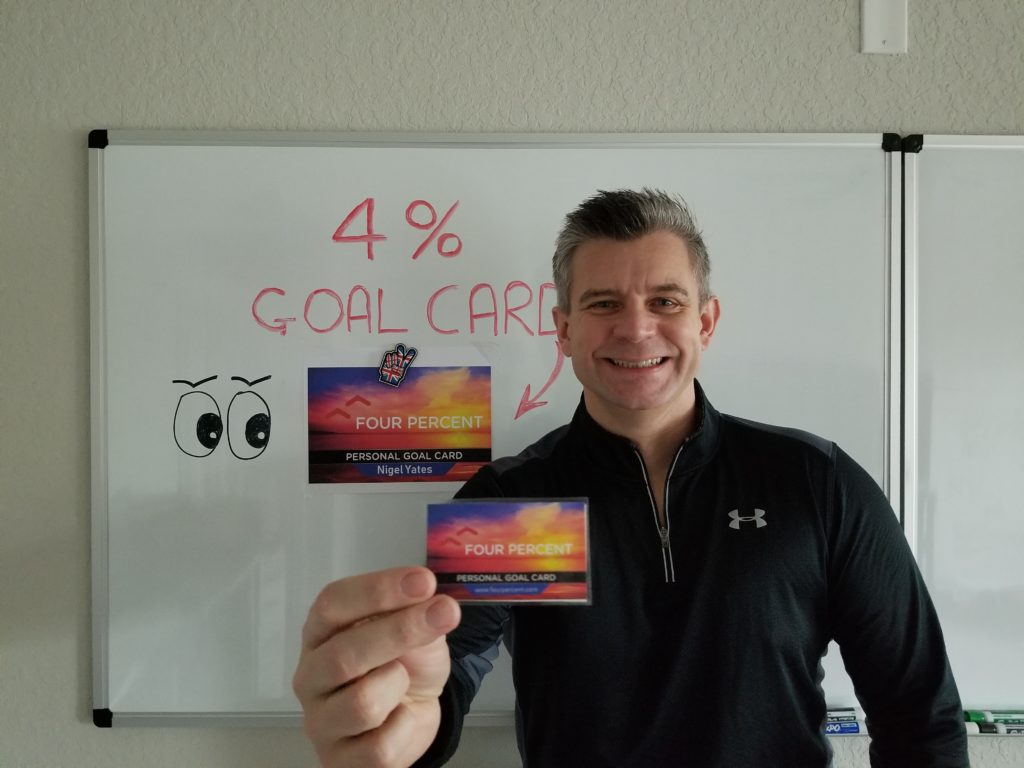 WHO THE FOUR PERCENT CHALLENGE IS FOR
Time for a little straight-talk…I firmly believe, from experience, that the Challenge is the perfect all-in-one system if you are:
An ACTION taker
A person who is coachable
Willing to listen and follow directions
Hungry for success
New to the online world but ready to learn
Looking to scale your current business
Committed to your success
Willing to invest in yourself (time and money)
An aspiring or experienced entrepreneur
AND THIS IS NOT FOR
People looking to get rich quick (there's no such thing by the way)
Lazy people who want something for nothing
Procrastinators – who will give up after 2 days and call it a scam
Freebie seekers – sadly the internet is full of fake promises 
People who are struggling financially (sorry) – it should not be a surprise to you that it takes some seed money to start any business
Haters, excuse makers, those with closed minds and closed wallets, naysayers, doom-mongers, complainers and anyone who perpetually blames the world for their situation


Based on experience, I wanted to be quite clear in this review that the Four Percent Challenge program is not suitable for everyone.
That said, I do love to work with action takers and decision makers (use any of the links on this page if you want to connect).  The Challenge requires commitment and persistence – but the journey is amazing and well worth it!
You will come out of this program a different person than when you started…it really is life changing.
FOUR PERCENT CHALLENGE – AFFILIATE MARKETING (ON STEROIDS)
The Four Percent Challenge has evolved into the most comprehensive affiliate marketing 'eco-system'.  It is a product-focused platform and I should also emphasize what this is not: it is NOT a BIZ OP!
The Challenge IS NOT about recruiting teams and promoting an opportunity – it is focused entirely on providing value to the marketplace through high-quality, in-demand products.
At only $49 per month the Challenge is a steal and if you absolutely love the training and sense of community (and I think you will) why not take advantage of the 'lifetime' option to eliminate monthly payments completely – all for a one-time payment of $497 (a great way to save money over time).
Personally, I took this option, as it made financial sense to do so  – I knew from the outset that this program was different and I wanted to stick around for the long-term!
ARE THERE OTHER COSTS ?
Absolutely, here's what the Four Percent's own website says:
"This is not a lottery ticket or "invest $1 and make millions" type of deal. This program takes you by the hand and shows you how to build a solid business that can help you create an extraordinary life.
In order for you to do things the right way you will need to have some basic 'tools of the trade', we'll recommend some of the best ones to use if you don't already have them. These include an autoresponder, custom funnel builder, and a custom tracking system to use for scaling and growing success.
You'll be shown exactly how to use these tools correctly and effectively.
Also, while The Challenge covers everything you need to know to get started on your goals, there are some highly-recommended 'Core Products', for example, mastering traffic generation is one of the most important core skills in marketing.
The Four Percent Challenge has that covered in the form of a specific program you can take to master traffic generation (the best available anywhere). Truth be told, you'll probably want to buy the Internet Traffic Mastery program regardless, but this will give you an edge in the online world. It's optional so it'll be entirely up to you to make that decision (here's my review of ITM).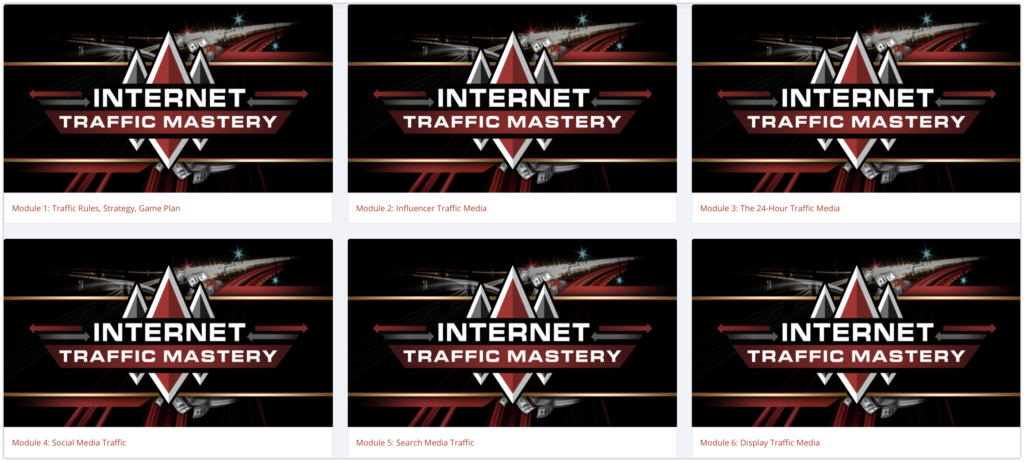 Please note you will not be advised to purchase anything that is not relevant or necessary in order to help you build an explosive business and get results fast.
Besides, when you start to see results, it won't be an issue!
I believe in full transparency, and my goal here is to help you create massive success. There are NO annoying 'up-sells', everything is transparent and focused on building your success using the tools and systems ANY online business owner would need – hence the power of the MSI system which integrates these tools into the 'eco-system'.
FOUR PERCENT PRODUCT PORTFOLIO
As already mentioned, the Four Percent Challenge is a product-based educational platform.
New products and features are continuously being developed to meet high-demand and provide high-value products to serve multiple online markets.
From SEO courses to e-Commerce training, our members enjoy having access to a range of products which they can both use and sell for a commission (no additional purchase is necessary).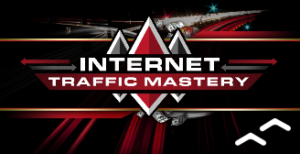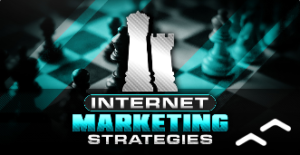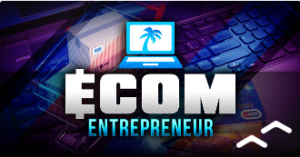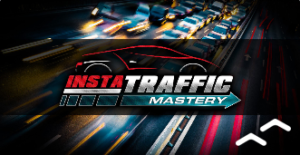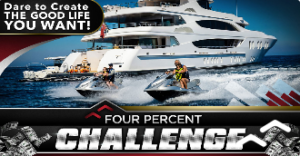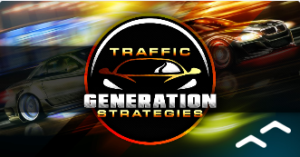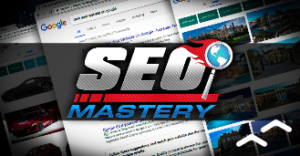 Remember, one of the biggest problems faced by so-called 'newbies' is that they do not have a product to sell – by aligning with the Four Percent and leveraging the work of others that problem is instantly solved.
WHO IS THE FOUR PERCENT CHALLENGE FOUNDER AND CEO?
The entrepreneur behind the Four Percent is Vick Strizheus. I have never seen anyone work as hard as Vick in delivering value and content…his commitment is both exemplary and extraordinary…and continues to this day.
I first met Vick in Orlando, Florida at the inaugural Four Percent annual conference (see below) and I continue to be blown away by his vision for the Four Percent as well as his drive, enthusiasm and energy.
Vick bares his soul inside the Four Percent Group members' area in his very own episode of The Journey – The Journey is a series of interviews with industry big names and successful entrepreneurs. Vick features in one episode and tells his story in candid detail, the good and bad, his mistakes and low points and what it took to achieve success.
I always recommend to anyone questioning the man behind the company – simply experience the content and value for yourself AND go to the back office and watch Vick's story; The Journey episode #2, where Vick candidly reveals his life-story, mistakes, lessons learned and of course successes.
In short, take a look on the inside and make up your own mind about whether you resonate with the vision and ethos of the Four Percent – backed by a cast-iron, money back guarantee!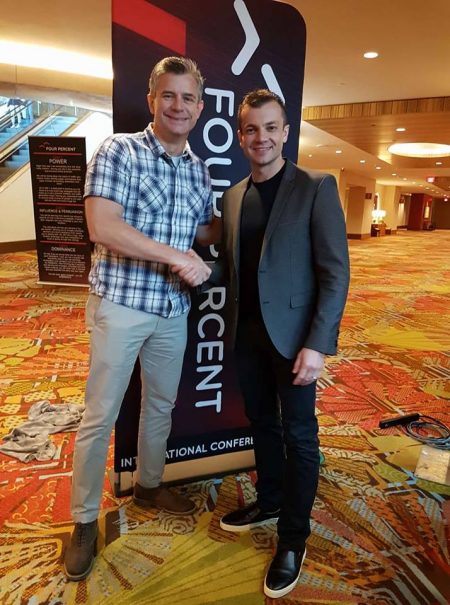 MY OWN SUCCESS BREAKTHROUGH
I would also like to add, that one of the personal highlights of my own journey, was being asked by Vick to lead on the creation of a new product within the Four Percent platform – and so eStage Academy was born and it is an honor and privilege to continue to serve the Four Percent community of entrepreneurs in this way – thank you Vick!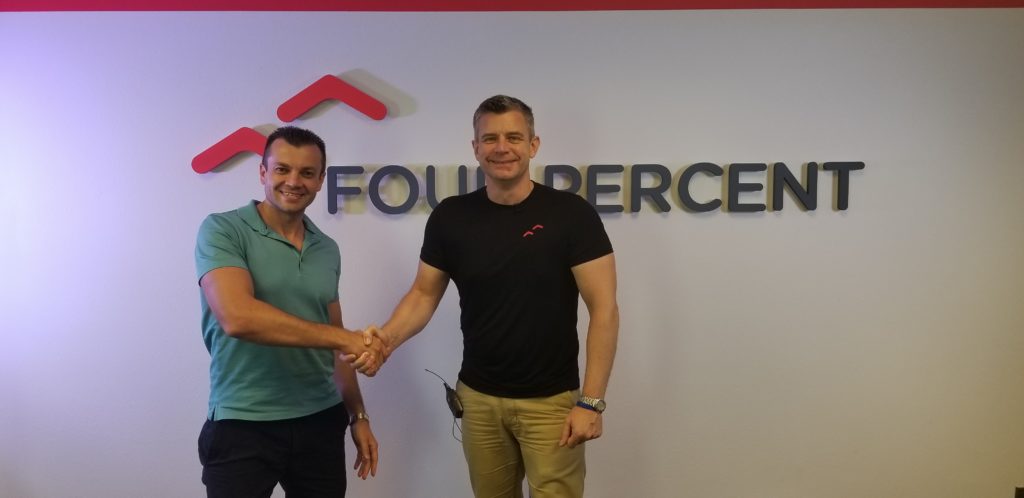 A WORD ABOUT THE FOUR PERCENT CUSTOMER SUPPORT DESK
The Four Percent Support Desk are second-to-none in my view. I can guarantee from personal experience that you are backed by a team that have some of the fastest response rates in the industry.
With 24/7 support available you can always make contact, either via email ([email protected]) or via the Live Support feature in the members' area.
I've used the support desk a number of times for all sorts of things including sending testimonial videos, changes to account details etc.
My personal experience has been one of complete satisfaction – I typically had a response answered within minutes of receiving my ticket submission confirmation. Nothing short of brilliant!
FINALLY – THE FOUR PERCENT CHALLENGE GUARANTEE
The Four Percent Challenge (and system as a whole) comes with a full money back guarantee – here's the deal:
"…a full 30-day money back guarantee…"
So, if for any reason you're not absolutely thrilled and don't think this is the most powerful program you've ever experienced in your life – simply let support know within 30 days and you'll get a full 100% refund, no questions asked.
You really have absolutely nothing to lose, but a whole new life and future to gain!"
You can get started right now with confidence – and I'm here to help you too!
Thank you so much for taking the time to read my Four Percent Challenge Review.
I hope you found this review informative and it answered many of the questions you may have had.
If not, don't hesitate to get in touch here 😉
…and the final word goes to those fellow students of the Four Percent Challenge program…in the form of reviews and testimonials submitted to Trustpilot, the independent review platform here:
One Last Golden Nugget!
Thank you once again for reading!
I'm also pleased to share with you another post you may find super-useful from friend and top email marketer, Jeff Lenney.
I think you'll get a ton of value from Jeff's content-rich post and, in particular, from the autoresponder email sequencing guide…
 …I know this is one of the most commonly asked questions I see from affiliates setting up their campaigns, which is why I think this article will truly help – you can read it in full here:
10 Email Marketing Best Practices for Affiliate Marketers (2019 Update)